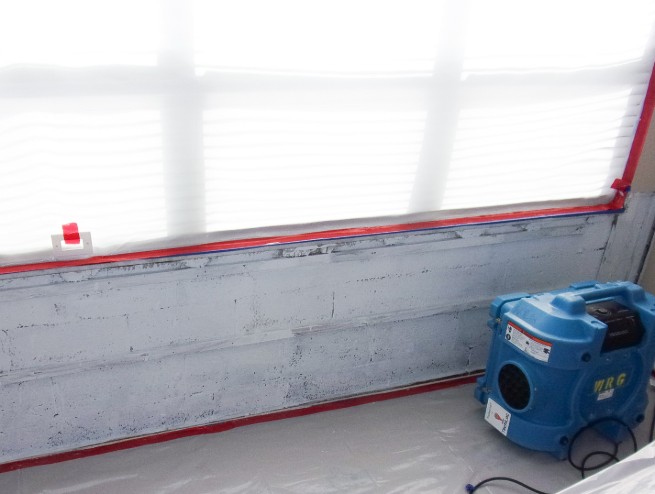 ABOUT SOUTH POINT CONDOMINIUM
South Point is a condo development with two 22-story towers in the Galt Ocean Mile section of Fort Lauderdale overlooking the Atlantic Ocean. Entering the grand lobby will lead you to either the North or South Tower, amenity level with billiards, fitness center, and clubroom.
Solution
WRG was called to address water intrusion throughout the building. Testing revealed high moisture readings and mold growth. The WRG team remediated all units affected and performed the rebuild work required post-remediation.
The scope of work included cutting all drywall affected with mold in order to clean and sanitize the impacted areas. Air machines were installed into the affected units to improve air quality and serve as a precaution protocol to avoid any excess mold spores spreading to other units. Before moving on to the rebuild/reconstruction phase, an independent contractor was hired to perform a post-mold test.
After each unit passed the test, the rebuild work began. Part of this work consisted of the supply and installation of Hydraulic water-stop concrete to certain areas within the units. For all exposed exterior walls, a DRYLOK® latex-based masonry water proofer was used. A total of 28 units were completed within 7.2 weeks.
One of the biggest challenges faced throughout this project was making sure all parties involved (management, association, and tenants) were in accordance and kept apprised of our progress. By hosting meetings and educating all groups on the proper procedures required for the job, they understood the processes and importance of each phase of work.
Need Emergency Disaster Restoration Services? We're Here to Help.
Our Full-Service Property Damage Restoration & Emergency Services Experts are available 24/7 to deliver Water & Fire Restoration, Mold Remediation, Asbestos Abatement, Environmental Cleanup and more!
Trust the leading damage restoration company in South Florida.
Get FREE Quote
Call Us 24/7
Client:
South Point Condominium
Location:
Fort Lauderdale, FL
Project Area:
40,000 sq. ft.
Project Value:
$1 Million +